Finding a good video editor for Android
Using the JXD S7800B, what video editing options do we have?
---
I want to edit on my Android Tablet. These devices are basically as powerful as a computer and for a web-based video creator, the potential here for shooting, editing and uploading 'on the go' is amazing. Specifically, I wanted a video editor that could,
– Import, edit and upload in HD
– With no restrictions on run-time
– No watermarks
– Multiple Layers (Both Audio AND Video)
Below, I've had the chance to check out a handful of applications through the Google Play store but it's worth mentioning, my particular tablet wasn't widely supported and your experience may be different.
 I've gone ahead and created my first video, edited on the JXD and detailing the workflow and overall practicality as a video editor for short videos.
---
So what's my choice for editor?
Available for iOS, Android, PC and Mac, this is a free (for personal use) video editor. It also has a lot of unique features but there's something extra-special that really elevates NCH Videopad.
Multi-layer video

---
NCH has created one of the only editors for Android that supports multiple video tracks. It's achieved through the add photo/title effect, but you can resize the 'picture-in-picture' effect to make it full-screen. Essentially making your 'video overlay' layer a second layer of video.
Important for me was the ability to add multiple MP4 files of various lengths (some over 10 minutes). Then being able to split and cut the video, remove  segments and render the final video out in HD. Without losing too much quality or having a watermark. Videopad did not disappoint with support for 1920 x 1080 video.
  —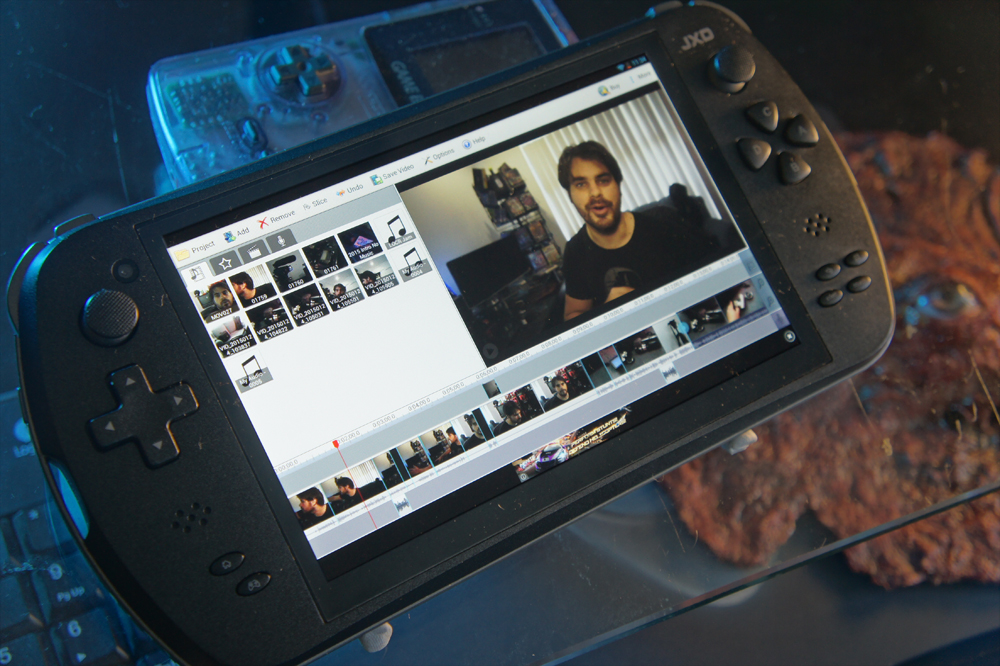 What's wrong with Videopad for Android?
The biggest downside to the Videopad app are the render times. They're slow. Your individual device will ultimately affect the time but compared to other apps, NCH's Videopad feels less optimised for the Android OS.
The UI is based off their Desktop software and not 'touch friendly'. Even though Videopad has a lot of features, there's a lack of polish that might turn off newcomers. To open up extra options for video, titles and audio on the timeline, you need to double-tap on the timeline. Not an easy feat considering the thin line your asset sits on.
This app makes money in two ways. You can purchase a commercial license to use the software for business purposes or purchase add-ons. The free version has a lot of features and functions already, but if you want more effects, transitions or no ads, you can pay a little extra.
Some big limitations across the board for Android video editors is the lack for more than one video/image track. Whereas more popular apps like Kinemaster and PowerDirector force you to place your video onto one track (titles and photos on another). Videopad does allow Picture-in-Picture. When dropping video onto the overlay layer, It appears as a small PiP box but double tapping it allows you to resize, change position and opacity.
This double click will also bring up extra editing options for your titles, photos and audio. The audio mixing and effects for Videopad were very comprehensive. Outside adjusting the volume, there's a few audio effects built-in like pitch shift and reverb.
Lastly, Videopad has a built in 'record narration' function. It'd be a great tool for YouTubers who want an easy way to record narration or commentary on the go.
The more I use these editing applications for Android, the more I realise how many compromises are necessary to produce something like a review. The biggest hurdle will be the choppy HD video, but if you're happy using SD footage and have the patience for the loading and rendering, you can do a lot with Videopad.
Before you start, I recommend ensuring your device has enough storage. All of that apps in this list (including Videopad) became very unstable once my internal storage was full. It can happen very unexpectedly and will add some extra stress if you're on a deadline (Thankfully Videopad autosaves your work).
---
What about Kinemaster?
Kinemaster is named (by more than a few sources) as the best video editor currently available for Android. I was able to briefly experience it on a Sony Xperia Z1, and it's a seriously polished app at a great price point and it does A LOT… But still no second video tracks at the time I was researching it.
I haven't been able to install it on my JXD S7800B due to an incompatible processor (the Rockchip) so I haven't had the chance to compare it to Videopad Video Editor and Kinemaster but an article posted on Computerworld by JR Raphael is a great place to start to learn more about Kinemaster.
If you're after a full-featured (for Android) video editor, this might still be the best option for most users.
---
Honorable Mentions:
PowerDirector by Cyberlink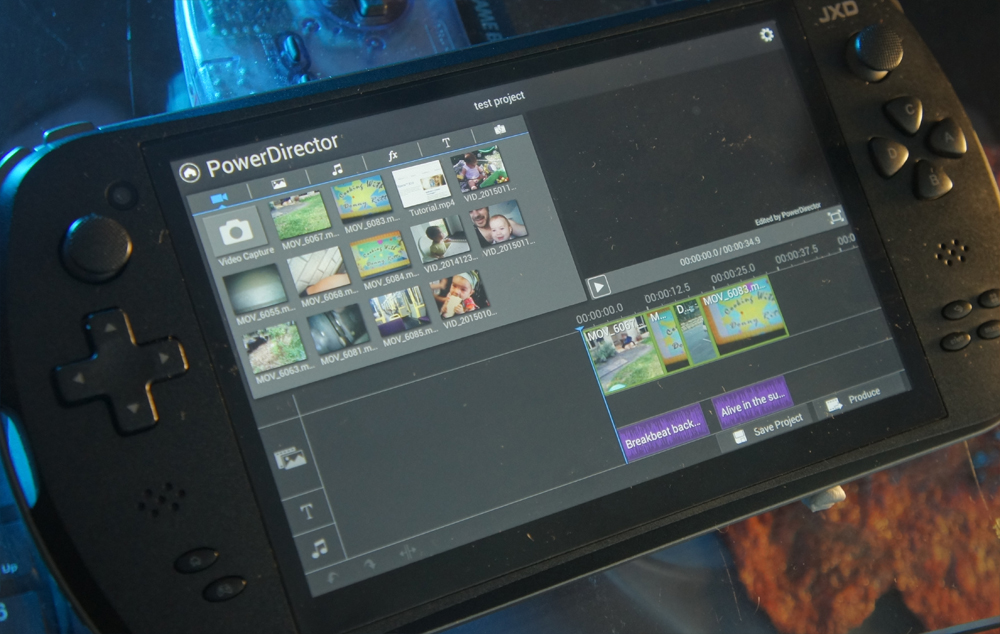 Outside of Kinemaster, you may want to check out PowerDirector – Video Editor.
It has a very slick interface, all the features I look for in a video editor to assemble a rough cut and has much larger base of supported devices. Even though not officially supported on the JXD, I was able to side-install it and it seems to work well… Except my rendered video has a green and red pattern overlay on top (in addition to the expected watermark).
All the features from the NCH Videopad app are here but to enable full HD exporting and removal of the watermark, you'll need to purchase the full version. I plan to hold onto this app, simply because PowerDirector was developed by a group called Cyberlink who also provide the software for PC and iOS (similar to NCH) and I'm keen to see some more developments made in the Android space.
TrakAx by HighAndes Ltd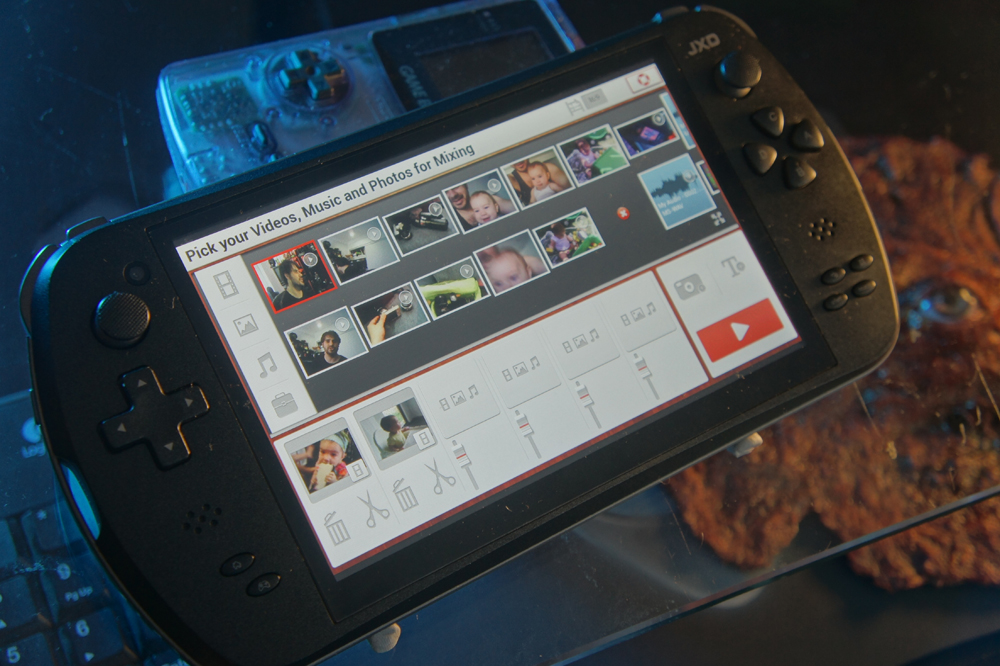 TrakAx is a bit different to other editors in this list. Instead of dealing with timelines or scenelines, you start by adding your assets. All the audio, video and images you need for your project gets added at the start. Next, you enter the mixing area where you are presented with a control deck. From here you hit record and start mixing all your assets (as channels) and the video gets produced in real-time.
So for example, you might start by switching the music to 'live', then fading in your slideshow before dropping a video clip on top. Fade the music out then finish on a final image with a farewell title.  The TrakAx website for their mobile app is probably the best place to get your head around the workflow, but it's a really novel approach to mobile video editing and actually fun to do. It'd be a great tool for creating certain types of videos, like a channel trailer or a highlights reel.
Magisto Video Editor and Maker
Magisto – Video Editor & Maker is an absolutely terrible fit for how I like to work… But it's one application that might actually prompt me to start looking at how I produce all my videos differently.
The big difference here with Magisto is that everything is automated and the app publishes videos via social media and email.
It works by adding your photos, videos or having the app import them through Instagram. Magisto then analyzes and creates an automatic video using the media you provided. Even though it's obviously not a 'Video Editor' replacement, I could see this being a cool way for a content creator (like myself), to quickly produce content specifically for the social platforms I'm active on. Whether it's a video game haul, episode teaser, trailers, end of year wrap up, collection shots or even a totally new series of videos? Like a 'making of the Leftover Culture Review' video that can be released alongside my full reviews. It's just an idea, but this app could be a great match for creating good looking content faster.
---
Other options for a video editor?
One thing JR Raphael's review revealed is how few options there really are for a dedicated video editor.
Out of the 5 apps he reviewed, one is more of a video toolkit (Vidtrim), that allows you to trim, merge and convert videos. Even though it's labelled as a Video Editor, it's functions have been somewhat isolated. In saying that, the app itself has some great reviews and seems to work really well, it's just not the integrated editor package I was looking for.
Another application, Video Maker pro Free, is based off Google's Movie Studio (that comes pre-installed on the JXD and most other Android devices). Although it's a simple app, I couldn't find a way to split a clip (only trim it). which means if I want to pull multiple rushes from one take I'd need to import the clip multiple times. I also couldn't work out what extra features have been added to make it worth the time. There's a lot of apps on the Google Play Store that use the Movie Studio code; V-Edit, Video Edit+ and a slew of others. Just something to be mindful of, be sure to check the description and the screenshots.
---
Is it worth video editing on Android and the JXD?
If you're looking for a more complete video editing solution, Android shouldn't be your first stop. The Apple iOS devices currently have a handful of powerful video editing applications, starting with iMovie that achieves a much more complete package than Google's Movie Studio.
Moving into the paid territory, I'll jump straight to Cute CUT. One of the more popular video editors that supports more than 1 video track and multiple image layers (even on my iPhone!).
Cute CUT's free version has several limitations (watermarks, 30 second output length), so if you're serious about editing you'll want to pay for the Pro version.
Word of warning, don't be fooled into downloading the Android application CuteCut. They're not the same application and you will be disappointed.
If you're interested in a few good suggestions for iOS in regards to multiple track video editing (and apps to watch oput for), I found this blog post handy from Citizen Mojo. You'll notice NCH's Videopad Video Editor gets a mention here as well.
So with all that great iOS video editing support… Why would I use Android to edit my videos?
Simply put, I don't. This tablet wasn't meant to replace my laptop or imitate an editing workstation. I don't think tablets or smartphones (regardless of OS) are there yet.
The idea of pulling together a rough cut or just organising my rushes from a bigger project on a tablet was very appealing… But ultimately not practical, especially if it's all filmed in HD. As I mentioned, I created my first video using the app and I do look forward to creating a more streamlined workflow and could see real potential for creating educational, behind-the-scenes, corporate and even more Vlog style videos with this current setup.
At the time of writing, January 2015, NCH's Videopad Video Editor fills my needs the best.
Disclaimer: No one has paid me to promote the NCH Videopad application, I just honestly feel that other content producers might be able to get some actual benefit out of this article. Whether you feel that Videopad could work for you, or you find another suggestion in the article works best… Or you just go iOS. Good luck with your productions.
---