Simpsons Skateboarding (Sony Playstation 2) – Video Game Review
Knee-pads on, helmet strapped, time to crash head-first into Tony Hawk's Skateboarding.
The Simpsons never had a problem releasing a bad video game. As a franchise, it's a total money-maker. After a big push with their platforming games on the NES, SNES and Mega Drive, the Simpsons video games got seriously interesting. I've already reviewed one my favourites, Virtual Springfield for PC and Mac, but it wasn't all good news for Simpsons fans.
---
---
So is this really the worst Simpsons game ever?
Maybe. But I've got 3 reasons why you might want to check it out.
A large expansive world
Springfield is a MASSIVE town, and there's been plenty of attempts to map it. Even though the stages can be bland, they put a lot of effort into creating multiple areas and scenes from the show. A lot of the challenges also tie-into Simpsons plot-lines from various episodes.
Genuine character voices
All the voices are the actual character actors. For such a terrible game, the fact they put so much effort into the sound really help make Springfield more believable.
PS2 Exclusive
Let's be frank… Simpsons Skateboarding was not a stand-out success (and other console manufacturers weren't scrambling for a port). The only way to play it is via the Sony Playstation 2, and that exclusivity can be exciting. It's not a widely known title, so busting out a less-common Simpsons game can be a real treat for a true fan (though I'd personally stick with the arcade game).
---
The Simpsons had a great run ripping off (or parodying) existing games and genres, especially looking at what they achieved with Road Rage, Hit and Run and The Simpsons Game (self-titled).
They had less success with games like Simpsons Wrestling and Simpsons Skateboarding. When Simpsons Wrestling came out, Fox Interactive held a poll to determine what the fans wanted next; Bowling, skateboarding or golf… Golf and bowling are obviously boring genre's no-one enjoys. So we got Simpsons Skateboarding, developed by a UK developer, Code Monkey's and distributed through Fox Interactive.
The game has a wide move-list, with special character specific moves, as well as the opportunity to compete in a multitude of challenges during the story that tie-in with the cartoon. The game boasts plenty of characters from the series, either as playable characters or as background characters in the stages.
There's also a two player mode available, but the stages are incredibly simple and boring. This is not a game that holds up well in multi-player.
Compared to Simpsons Wrestling, this game 'could' have been a lot less ambitious, but I love the fact they gave Simpsons Skateboarding some big ideas to (try and) make it exciting for the fans.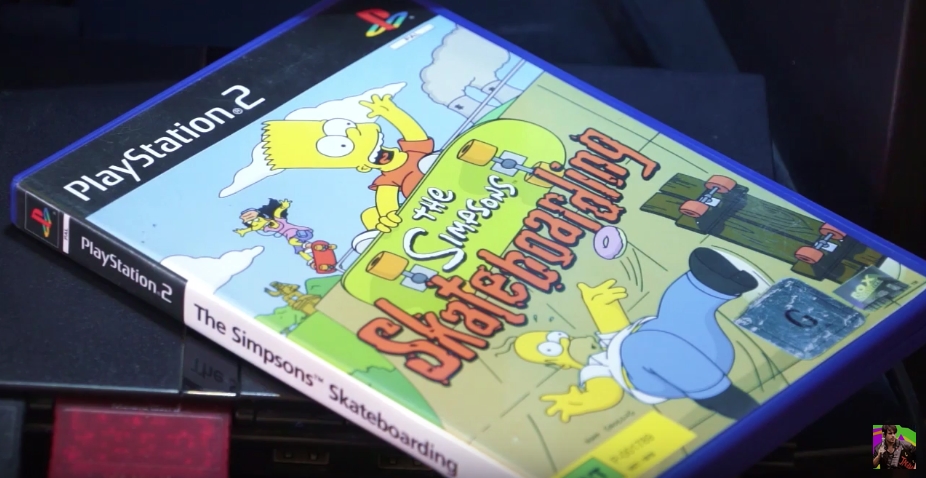 ---