Things heat up as Mighty Max Melts the Lava Beast in this Battle Warrior Playset from Bluebird Toys
---
The Lava Beast is a frequent, recurring character in the Mighty Max toy line and TV series. This time, Bluebird Toys have introduced the Lava Beast as one of their action figure play sets. We get a glimpse of the Lava Beast in action with Mighty Max Melts the Lava Beast. Worst way for a Lava Beast to die.
---
How did Mighty Max Melt the Lava Beast robot?
Knock out the central brain with a rock. Watch it crumble. The end. Mighty Max goes toe-to-toe with the Lava Lord and a massive Lava Beast robot, and he simply burnt them. Mighty Max Melts the Lava Beast has an incredibly simple short story. But the play set looks great. Complete with Lava Lord and Mighty Max, as well as the Lava Brain that sits on top and a flick-firing fist missile with fire sword.
For a Battle Warrior play set, we get plenty of accessories. What really stands out is the molten lava slopping down the arms and legs. Mixed with the rock texture, this figure has an intriguing exterior. Opening the play set up, we can see the mechanical workings of the Lava Beast robot. Wires, gears and of course, a cauldron-style bowl. The Cauldron style bowl creates a second action-feature within the play set.
Pressing a tab on the back of the play set causes the cauldron to jolt forward. Pushing an expected character through the mouth of the Lava Beast robot.
---
Lava Beast & Lava Lord
Mighty Max melts the Lava Beast acts like a companion piece to Mighty Max Challenges the Lava Beast. A smaller Horror Head play set that featured a Lava Beast face on the outside. A smaller Magma Brain on the inside along with a lava insect.
Both the Lava Beast and Lava Lord are recurring characters in the Mighty Max TV Show. In the cartoon series, we get introduced to a Lava Beast in the first episode when Mighty Max gets chased by one.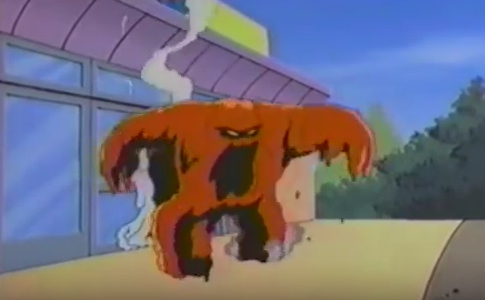 Lava Lord is the original lord of Skull Mountain before Skullmaster overthrew him and encased him in stone. When Mighty Max manages to free Lava Lord, they form an uneasy alliance to take on Skullmaster together. It doesn't last long but Lava Lord is an interesting character that uses and works with Mighty Max to retake Skull Mountain.
 
---
---