The smallest games Sega ever made. Dreamcast VMU-Style.
What we have here, is the best memory card ever. The Visual Memory Unit. It's a mini-gaming device, it's a memory management tool, it's a second screen for gaming and there's apps you can download to use on the move.
---
---
The Sega Dreamcast was Sega's last console. And they had a lot of fun with it. It was a system that managed to bring a lot of Sega's latest arcade hits to the home market. Not to mention a strong selection of exclusive Sega franchises. House of the Dead, Sonic Adventure, Shenmue and Dynamite Cops.
Even when designing the hardware, Sega managed to bring their broad controllers from the Saturn and modernize them. 4 controller ports. And my favourite addition, funky memory cards with additional screens that plug straight into the controllers.
On its own, the Sega Dreamcast VMU works as a memory card, file manager and a miniature device. You can load files, applications and even games onto the Dreamcast VMU and take them wherever you go.
---
Sega Dreamcast VMU as a Second Screen
Or, while gaming at home, the Dreamcast VMU works as a second screen in your controller. In games like D2, it works as a compass as you navigate the map. In both Resident Evil Code Veronica and Carrier, the VMU gives you a health read out.
Play Silent Scope Just using the Dreamcast VMU
The most unique uses of the Sega Dreamcast that I've seen. Silent Scope from Konami. The VMU acts as a scope for your sniper rifle, and in theory, you could actually play the game simply using your VMU to target. It's a really fun implementation of the second screen and a real testament to what Sega and the Dreamcast could achieve working together.
---
Sega's Mini-Game Machine
The Sega Dreamcast VMU had a bunch of mini-games worth checking out. And a bunch that weren't. Some clear stand outs from Sega themselves include the trio of mini-games available in Zombie Revenge, the Chao Adventure games available through the Sonic Adventure titles and again, another trio of mini-games available through Power Stone.
---
Sonic Adventure – Chao Adventure
The Chao Adventure games are miniature treks through their virtual world. You can import your own Chao's from the Sonic Adventure Dreamcast game, and gain experience by solving problems, interacting, fighting and making choices during their adventure.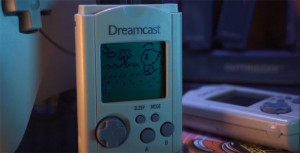 It's very reminiscent of the Tamagotchi, but there's a lot of humour and Sonic references strewn along your adventure that makes it well worth checking out.
---
Zombie Revenge – Zombie Fishing, Doubt and Memory
Zombie Revenge is an arcade game that uses the House of the Dead universe to bring us a fully 3D beat 'em up title for the Sega Dreamcast. The Dreamcast VMU mini-games however, are a real stand out. Again, we can export a character we'd like to train from the main game, and through the VMU, train them in a few different ways, feed them and keep them happy.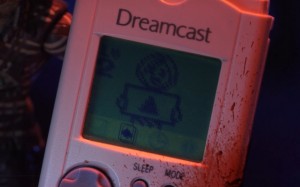 Zombie fishing is a quick-time event style game. The correct key-presses, fast enough, will net you a series of zombie fish. Zombie doubt requires you to memorize a card pattern in a particular order.
---
Power Stone – Gun Rock's Gun Slots, Falcon's Aerial Adventure and Shuriken Training
A trio of mini-games you could unlock while playing through the main story line for Power Stone. Between the three mini games, you've got a slot machine game, trying to line up icons. A flying schmup and a target practice game where you need to shoot ninja's diving across the screen.
Unfortunately, the second Powerstone game didn't deliver more mini-gaming fun, rather focusing on an application that allowed you to trade and collect items and power-ups.
---
Some other honorable mentions, the Japanese version of Sega GT came with a mini racing game, Sega Pocket GT. It's a simple overhead racing experience that minimizes the racing experience onto 3 tracks; US, EU and Japan. You collect time power-ups, race the clock and try to make it to the checkered line.
Skies of Arcadia also had a miniature adventure, similar to the Chao Adventure, that let you fly your ship across the open air to uncover treasure and battle off pirates.
Along with some unique releases from Sega, the Homebrew scene on the Dreamcast VMU has been incredibly fun to dive into. All the games I mentioned, as well as a strong homebrew selection of games, applications, save states and fun animations can be found on the VMU Dream Explorer Tool disc.
Booted up either on an actual Dreamcast or via an emulator, it's easily the best way to experience the VMU and what was capable on Sega's mini-device.
---