10 Story Collection of Goosebumps Holiday Themed Tales
Have a spooky, creepy Christmas!
---
The Tales to Give you Goosebumps series of books each contained a collection of 10 shorter Goosebumps stories. Each collection generally had a theme, summer break, Halloween, summertime as well as Christmas. The 6th book in the series, More & More & More Tales to Give You Goosebumps, contains 10 different Christmas themed horror stories.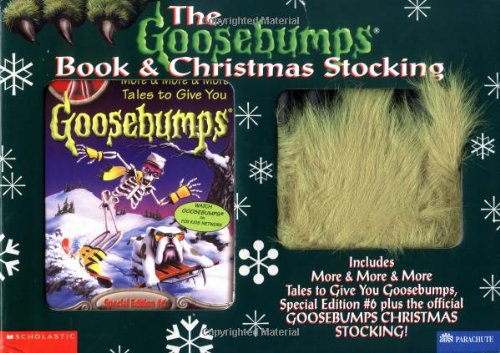 More & More & More Tales to Give You Goosebumps was originally released with a Goosebumps Christmas Stocking. It's the ultimate holiday gift pack for the Goosebumps fan.
---
Playlist: More & More & More Tales to Give You Goosebumps
---
01 – Don't Sit on the Gronk
Brad had a pretty good Christmas morning. A bunch of great presents, but there's one unexplained package with small, squishy ball inside. Brad's Christmas is about to get a lot more interesting…
—
02 – Nutcracker Nightmare
Sam gets dragged to a boring performance. And it just seems to go on. Is something weird going on here? Is Sam's old babysitter out to get her?
—
03 – The Ice Vampire
They were sure they were going to win the ice sculpture competition.. But suddenly, an incredibly realistic sculpture of a vampire. But something seems incredibly strange about it.
—
04 – Holly Jolly Holiday
Beth doesn't mind Christmas, but one Christmas TV Special really bugs her every year because it's so sweet and lame. This year, Jody has an early gift, Holly Jolly Holiday, the Christmas special on a weird old VHS… But the more times Jody watches the special, the weirder things get.
—
05 – Why I hate Jack Frost
Jared isn't excited about a hot Christmas in Arizona. So, to let off some steam, Jared buys a Christmas ornament that feels cool to the touch, and reminds him of a cold, snowy Christmas. Then the dreams start happening, dreams of Jack Frost and a snow man. Jared starts feeling cold every day and the dreams of a white Christmas soon turn into nightmares.
—
06 – Marshmallow Surprise
Mrs. Spooner is an absolute joy kill. When Marsha, Ronnie and Ricky crash through her garden on their sleighs and ruin her mailbox, they think they're in big trouble. But then, Mrs. Spooner invites them all inside for some Marshmallow Surprise… The holidays is the perfect time for surprises.
—
07  – Monster on Ice
Max is excited about his new Christmas present. New ice skates. So he takes them out to play ice hockey with his friends. Wearing them seems to give him more energy, more speed and more aggression than ever. Then he starts growing hair. What are these skates exactly?
—
08  – The Double-Dip Horror
Rachel and Wynona are identical twin sisters. And they've been given an offer they can't refuse. Teach children how to ski at the Ice Cream Cone Ski Lodge and get a day of free skiing. Being twins, they trick the lodge and take turns teaching while the other takes the day off to ski.
Unfortunately, Ice Cream Cone Lodge has a few secrets of its own and a particular student that's out to trick the sisters.
—
09  – Santa's Helpers
Beth, and her brother Spenser LOVE teasing their little sister, Diane. Then one night, when they were out playing, Beth and Spenser get kidnapped by elves and taken back to Santa's workshop. Santa is furious, thinking they are both escaped elves and orders them to forced 18-hour shifts for 5 years. They need to prove somehow they're not elves, and they need Diane's help.
—
10 – Attack of the Christmas Presents
Jack and Doug are stoked when their Uncle Billy arrives to spend Christmas with them. But his presents are kind of weird; Doug gets a Japanese robot called 'Robot Tag' and Jack got a tribal mask. They decide to swap presents anyway, but the robot starts acting strange. Moving by itself and making noises. This might be the most interesting Christmas present yet…
—